---
---


Been Here, Done This
My reaction to the election of Donald Trump
Sunday, November 13, 2016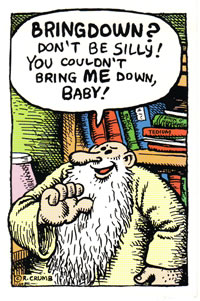 As I watched the election results, like millions of others I was shocked and repulsed. At the moment when disbelief was necessarily replaced with acknowledgement, I was faced with the prospect of profound sadness. The accession of the Orange Messiah to the most powerful position on earth is a global tragedy. The sadness of it could have crippled me that night but for the decision I made immediately to put the election into the framework of my life.

I am a draft dodger. Been Here, Done This. Lyndon Johnson's escalation in Vietnam coincided precisely with my vulnerability to the draft. President-Elect Cheetos Jesus' evils in coming months will be more thoroughgoing and ubiquitous than Johnson's great mistake. Those evils won't be so concentrated on American men (along with all Vietnamese) of eighteen to twenty-seven years of age. However, I have been tempered by years of fear to have learned that fear doesn't help.

One day during the middle of Tricky Dick's first administration, I moved from 54 Green Street in Cambridge to 500 Green Street. I had been dodging the draft fearfully for several years. On that day, I decided not to inform the Selective Service System of my change of address and, more importantly, to stop being afraid. It was good to be fearless.

Like the Vietnam Era, the coming years will bring their own particular horrors. Every year does. I refuse to meet them with fear. Fear is the currency of the Tangerine Redeemer and his ilk, not my currency. A superior stock in trade is tolerant and buoyant neighborliness. I will sing my way through the coming troubling years, like Woody Guthrie, whose guitar bore the words, "This Machine Kills Fascists."

When I finally got to sleep on election night, I did so peacefully and joyfully. During the 'Sixties and 'Seventies, a lot of us put up a good fight. There were casualties, but it was our joy and fearlessness that got the survivors through. It was an overriding happiness to us who lived those years with love and resistance to be the kind of kind people that we were.

I am a draft dodger. Been Here, Done This. There is a new fight at hand. Vive la résistance! We will prevail.

Let us celebrate who we are!



---
---