---
---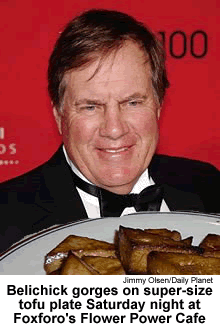 'Twas tofu killed the beast:
Coach's diet cost the Patriots the championship
Monday, January 21, 2013

My football-watching for the season is done, thanks to the Patriots' loss yesterday in the AFC Championship Game. At the end of such season-ending games, I usually simply turn off the TV and forget about the whole sport until "next year."
Today, though, I checked what Ron Borges of the Boston Herald had to say about the game. He is one of the very few sportswriters in my ken who can actually write, and he sometimes brings rare and needed circumspection to his columns, so I like his stuff. He suggests in today's piece that the loss was a result of the first-quarter injury of Patriot cornerback Aqib Talib.
While I am sure that Talib's injury helped the Ravens to win, anyone who watched the game knows that it was the Pats offense that blew it, and I am here to report why: Patriots Coach Bill Belichick has been eating tofu.
Forty years ago when my friends were cooking tofu, I shunned it, declaring it "girlie food." Nowadays we have medical studies that demonstrate that eating tofu increases estrogen levels. I knew it, I just knew it! Thus, with the evidence of the accompanying photo, I can publish the truth of the matter: Patriots Coach Bill Belichick has been eating tofu, and that diet caused the Patriots' loss. I know it, I just know it!
What else could explain his bizarrely uncharacteristic milquetoast coaching throughout the game?
Fourth-and-two at the Baltimore 45. We've seen this before. Against Peyton Manning's Colts in '09 —on his own 28!— the ever aggressive Coach Bill infamously went for it. Yesterday on the enemy's side of the field? Punt. Girlie. Tofu.
With twenty-six seconds left in the first half, the Pats had first down on the Ravens' ten-yard line. And they get off exactly one (1) play and wait till four seconds left before calling a time-out and having to settle for a field goal? Ridiculously hesitant clock management. Girlie. Tofu.
Fourth-and-nine at the Baltimore 35. Punt? To gain what? A couple of dozen yards at best? Oh, but what about the wind? Lions and tigers and bears, oh, my! Yes, punt. As timid a decision as you'd expect in a junior high intramural soccer match. Girlie. Tofu.
Repeat same in third quarter. Fourth-and-eight at the Baltimore 34. The very same coaching decision to make. Not punt again, surely. Yep, punt again. Double girlie. Double tofu.
The most unmistakably testosterone-free moment had come early, with 6:25 to go in the first quarter. Fourth-and-two at the Baltimore 12. Go for a field goal? Not the real Bill Belichick, not in a thousand years. As unPatriotic as imaginable, but that's what they did! Archetypically yin. Girlie! Tofu!


---
---