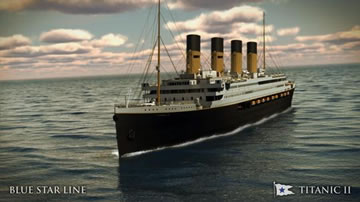 Another adventure in irony: Titanic II
Wednesday, February 27, 2013
In today's edition of boston.com, this article reports that Australian billionaire Clive Palmer is planning a replica of RMS Titanic. There is a brief quote from the ship's designer:
In what some may consider a temptation of fate for a remake of a notoriously "unsinkable" ship that sank, a representative of the Finnish designer of the Titanic II said it will be the "safest cruise ship in the world."
The Titanic was an ocean liner, which is a passenger ship built for blue water; a cruise ship is most definitely not so built for seaworthiness and is more or less a luxurious ferry. I submit that, if the ship's designer fails to recognize the difference between an ocean liner and a cruise ship, Titanic II might prove a far better replication than desirable.

---