---
---
Sunday Joyride
August 11, 2014
Yesterday my companion and I decided to take a random drive to no place in particular. We didn't want to go north or south, because we knew that doing so would find us, on the return trip, caught in the usual hot summer Sunday beach traffic.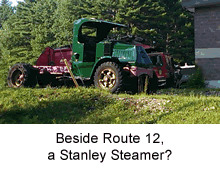 That leaves the alternatives of the Mass Pike or Route 2. About forty miles out on Route 2, she casually mentioned the word "Walpole," and, after sorting out the fact that she knew nothing of a Walpole, Massachusetts, I turned off Route 2 onto 140 North headed for Walpole, New Hampshire.
As we glided along in the big air-conditioned car, our attention and admiration was given to the midsummer green everywhere; it wasn't the pale, sprouting green of spring or the dusty, brownish green of late summer. For the past couple of summers, our weather has brought us an unusual abundance of flora, and yesterday it all appeared an exact and flawless forest green.
No further ideas came into our heads, so I just kept driving northwest, following Route 12 to Walpole. I think she had a vague notion of dining at Burdick's Chocolate, but the cafe was closed when we parked in the center of the quiet town. We heard some music in the distance and wandered over to The Green, a block from the crossroads at the town's center. In the bandstand was Montague Community Band. It was the first time, since the 1950's when my mother took my siblings and me to an oompah band concert in Fall River, that I have seen a bandstand actually being used for its intended purpose.
I felt a little self-conscious setting down my moving pad-cum-picnic blanket beside the bandstand. Almost all the attendees, a couple of hundred with a very high geezer quotient, sat in folding chairs set a respectable distance from the structure; there may well be a policy or tradition proscribing blankets. A few men and boys in Boy Scout shirts sold hot dogs and soft drinks. At intermission, a few people walked to the town hall across the little street, informing us that the restrooms were open. A quite civilized and well monied place, Walpole, New Hampshire.
The group played big band songs, e.g., "In the Mood," and marching tunes, e.g., "Grand Old Flag." The musicians were not professionals, and the effect was not passing enthralling. It was only very, very pleasant. On this unimprovable summer afternoon, pleasant was perfect.


---