---
---
A Painter's Very Short Story
May 14, 2015
During the summer of 1979, I was working for Walter Gundy, who was turning the first-floor factory space at 10 Beacon Street in Inman Square into a suite of offices for a laser show company, called Image Engineering, owned by him and his four partners. For lunch one day, Walter led us to this very bohemian restaurant called the Modern Times Cafe on Hampshire Street. I liked the place because the food was good and plentiful, and the scene was so funky that I could show up no matter how dirty I was in my painting clothes. Also, of no small import was that they served Heineken. It became my hang.
I became a casual friend of another regular, one David Miller, archaeologist and gunsmith. David's particular field of expertise was the identification of fish bones from middens. That fact is not pertinent to this story, but ain't it something?
David knew the owner of the building that housed the Modern Times, and he may have conveyed to that owner, name of Ed, that the latter's need for a painter might be met by yours truly, because one day Ed, sitting near me at the bar, said Hello and allowed that he'd heard I was a painter.
I admitted that I was a housepainter and asked what he did. He said he worked at a hospital. It turned out that Ed owned the building at 134 Hampshire because it was part of the property that he had bought to acquire the contiguous house at 145 Elm Street, but what was of immediate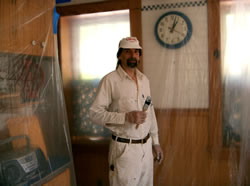 interest was that the former building had a three-story backside in desperate need of the attention of a painter. I took on the job. I painted it with three coats of oil paint and did so with my customary practice of doing it just as though I cared. When I caulked the gaps between clapboard and fascia, I drew my putty knife to make the caulk match the runs of clapboard, and it was pretty. He liked my act and had me start on the real project, the renovation of the Ivory Sands House (145 Elm.) Now, questions of how far to take quality arise, because a painter has to draw the line somewhere, so to speak. Ed made it fairly simple for me when he told me that he preferred a job done too well to one not done well enough.
He would be off to the hospital before dawn and return at dusk to start working on the house. One day he arrived slightly after sunset to find me painting the front porch. He asked, "Genghis, can you see what you're doing?" I remember exactly my reply: "Peeking is for sissies!" Another day I had just driven from northern New Hampshire and mentioned to him that it was a very cold ride because, despite the temperature of five degrees, I had left my windows open because my pick-up truck had a leaky exhaust manifold and very leaky floorboards. He asked why that mattered, and I said that I thought that carbon monoxide did permanent brain damage. I remember exactly his reply: "Genghis, that's a blessing!"
So we understood each other. Thus, it followed that every lick of paint in or on the house now called the Elm Street Ironworks is mine, and there isn't a drop of it of which I'm ashamed. If you see a drip on some brickwork or a deck somewhere, please rest assured that it was carefully placed there only to show my humanity. Honest.


---
---