---
---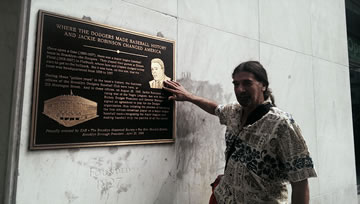 Jackie Robinson
July 21, 2014
It was a big deal when in 1630 the Puritans of the Massachusetts Bay Colony brought the physical charter with them when they came to Boston. The law was such that decisions made regarding the management of the company had to be made in the presence of the physical charter. Thus, the colonists were free to adjudicate their day-to-day business with self-determination and without reference to authorities across the Atlantic. It was no fluke that the American Revolution started here.
It was a big deal when in 1803 the United States bought the Mississippi Basin from France for fifteen million dollars, thus giving the US the legal (for Europeans) basis for that enormous expansion.
Neither deal, in my estimation, was more important than the deal that was made in 1945 on Montague Street in Brooklyn. Dodgers general manager Branch Rickey signed Jackie Robinson. When I visit Brooklyn Heights, it gives me pleasure to stop, as I did yesterday, to read the plaque at the site.




---