---
---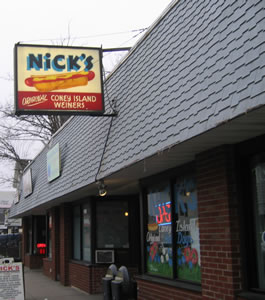 Dirty Nick's in Fall River
April 8, 2015
Today a friend sent me a link to a nostalgic article in my hometown newspaper about bygone businesses in Fall River, Massachusetts. I read the brief piece and gave it some thought. There isn't a single business or any place at all in Fall River that I miss. Had I had a nickel to waste on a pack of baseball cards, I might miss Swidey's Variety, a tiny store that was up Centre Street from my boyhood home. But I didn't, and I don't.
There were things about Fall River in the 1950's and early '60's, though, that I do miss. I miss the absence of the umbrella of constant, dirty din of jet planes. I miss the sweet, acid smell of aging copper window screens on a hot and humid summer day. I miss the romance of fog horns at night a mile down the hill in Mount Hope Bay, but I doubt people who lived at water's edge miss it. I miss the sound of a bicycle's warning bell that was used with meaning and that could be heard a half a block away. I miss the leisurely pace of backroads, without someone behind having a frantic need to go as fast as possible. I miss empty lots or any empty space at all; in Cambridge I don't have a single square inch of space to dump some dirt, much less space to shake out a dustmop. More than anything, I miss —for the sake of kids who have no idea what it's like— a child's ability to go anywhere to do anything that comes into one's head (unstructured play, as it has since been called) on foot or on bike, without adult supervision, without helmet, without worldly care. Ah, but for the otherworldy cares of this altar boy, I might have tasted actual freedom.
When I have to go to Fall River, I stop at a business known as Dirty Nick's. To go there for three dogs with the works is a kind of personal joke about the fact that there is no place in Fall River that I miss, nowhere I want to be, in this day or in past days. Nick's Original Coney Island Weiners, which was established in 1920 and which has now ancient photos of downtown on its walls, is a sort of artificially designated place to miss so that when I have to go to that God-forsaken city I have some place to stop where I can smile for the sake of smiling. And I made up that joke only long, long after I left Fall River.
Now I will end this blog entry and resume, at least until tomorrow's workday, my ongoing happy childhood. Yippee!