---
---

"Monsieur Chuck always breengs eez own."
Thursday, June 16, 2011
In some mostly forgotten Golden Era Hollywood movie, a restaurant patron is seen eating something that is unavailable to the other patrons, unavailable because of local economics or wartime rationing or some other reason. Another patron asks the restaurateur how it is that that customer is served that particular rare morsel. The restaurateur replies, "Monsieur (So-and-So) always breengs eez own." I relived that scene many times in the 1990's.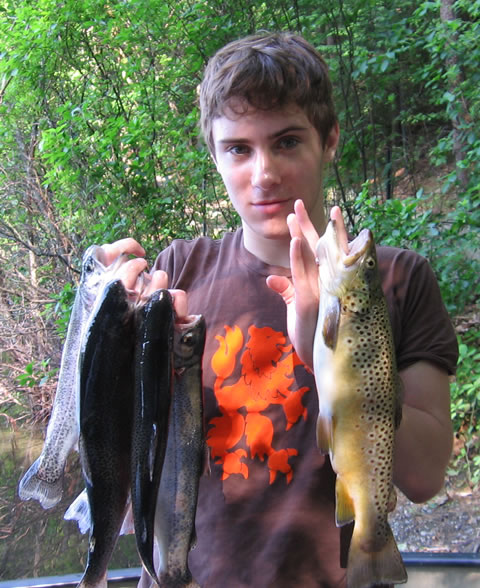 There used to be a place in Inman Square called Daddy-O's, where grilled trout was a menu staple. One of the two chef-owners did the grill work, and he grilled about fifty trout per week. He was very, very good at what he did. No matter how I tried, I could not cook one of my trout to taste anything like the sublime results of his attention.
Somehow I managed to connive a relationship with this generous chef such that I would bring my own trout to the restaurant and he would grill them for me. I would walk in and ask, "Any room on the grill?" and, if there was, I would bring my freshly caught trout, always much bigger than the ten-ounce standards that were being fired over Canadian hickory charcoal.
This place had an open kitchen, and startled custormers would gaze at a monstrous two-and-a-half-pound trout on the grill and ask, "What is that!?" My beloved chef would reply simply, "Monsieur Lapointe always breengs eez own."
Today that chef's sons are young men. When I ran across one of them, Chuck, recently, I ask him if he would care to join me in a fishing outing sometime. He answered in the affirmative. On Tuesday I brought to their home my catch of the day, which included three rainbows, one of which measured a very thick 16-1/2" and was the third-biggest trout I have ever caught. Chuck became even more enthusiastic, so when I ask him to join me today he did.
The limit in Massachusetts is three per angler, and we got our six. There are five lovely rainbows and a beautiful brown trout. Chuck got that one, the last catch and the biggest. —And he has fully qualified assistance to prepare it.


---
---