---
---
Friday the Thirteenth and Boy Scout Training
Sunday, February 13, 2011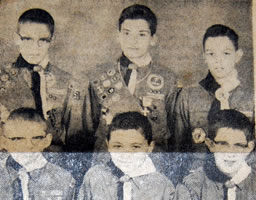 Usually triskaidekaphobia is just a silly joke. Today I happen to remember one Friday the Thirteenth, forty-one years ago today, that gave one young woman some major discomfort.
I think of it now because, recently while cleaning a drawer, I ran across an old Fall River Herald News clipping depicting the Flaming Arrow Patrol of Troop 50, of which I was the fearless leader, who won a first aid contest. That contest was a lot of fun, because I had convinced Danny and Phil that we should not inform the adult Scout leaders that we intended to participate. We were a bright group, and we did not need the grown-up supervision that our competition had. It was a kick to stop by the Assistant Scoutmaster's house that evening to let him know we had won a district championship. We won the Massasoit Council (the finals) contest too, but then the adults came along for that one, so it was not the same.
Years and countercultures later, my then best friend Stevie Hawkins and I were on our way, on a Friday the Thirteenth, to see roommate Andy Paley's group Catfish Black do a gig in Harvard Square. (It must have been some kind of strange gig, because I remember that Andy borrowed Stevie's tights for the show.) Just after Stevie and I had crossed the foot of Garden Street in the Square, we heard a scream. A young woman, Marianne(spelling?) Dorsey, had just been pinned by two cars and was lying on the ground with a broken thigh.
When I asked Stevie to go on without me she agreed, and I stayed to do what I could. With my Boy Scout training, I knew that there was something called "shock" and that it was important to make an injured person feel as comfortable as possible. I put my arm or jacket (can't remember) under her head and knelt beside her while I told her that she was very near a hospital and would soon get swell care and all that. Hovering above us were a few guys of my age, one of whom said, "We're Harvard medical students." I ignored them and gave my attention to gal on the ground. I rode with her in the ambulance and then walked away at the hospital entrance.
I spoke with Marianne a few weeks later and learned that my attentiveness had been very helpful to her. I knew then that the training (parts of which were silly: think snakebites) that I had gotten in the Boy Scouts could actually be useful in a world far removed from the Boy Scout weltanshauung. Since that time, I have appreciated that no matter how screwy any given discipline might be, there is probably something that can be gained from it that is useful.
How screwy is Buddhism? "No matter what happens, it is what is happening and is therefore acceptable." Well, that's just nuts. —Unless one happens at some time, just to get by, to have need to reach toward equanimity. Buddhism comes in mighty handy at that moment. One does not have to buy the whole farm to enjoy the fruit.
Years later I was studying expository writing, and I complained to pal Ed that my teacher in a particular extension course was not bright enough to be very useful. He said, "That's no excuse not to learn something."
Made sense to me.
For search engines: Depicted are Gerald Tremblay, Gary Boyer, Donald Saucier, Daniel Gauthier, Paul Lapointe, and Philip Collard.
---