---
---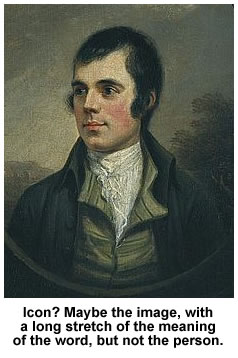 Artisanal and Iconic, Respectively
January 26, 2014
The quality of everyday communications has deteriorated continually during the past century, but nothing bristles me more than the word fads that seem to arise these days. This trend became evident to me when, in the 1980's I think it was, the television networks appeared to have felt required to use the word "detente" several times in every other news broadcast. Then the New Yorker would not allow publication of an issue without littering it with "redux." Most current (beyond the ubiquitous "very unique") are "artisanal," "respectively," and "iconic."
"New Artisanal Fish Sauces" reads a headline in the New York Times. Taken literally, "artisanal" denotes "made by humans who make such things." Gibberish! If the users of this word were more honest they would instead choose "not usually found in discount stores" or "high-priced."
Searching for an example of the misuse of "respectively" almost led me into a gaffe of Biblical proportions. (Had to work that one in, "Biblical proportions." I think it's funny.) The Times headline that I found first reads "GIANT GOLD NUGGETS FOUND.; Two Weighing 967 and 373 Ounces Respectively Dug Up in Australia." Fortunately, I uncharacteriscally took the time to click "View Full Article" only to find that the article was written in 1906, thereby making it a good rebuttal to this blog entry. Here is a more recent example from Boston.com: "...scored their first Top 10 chart positions in the Uk at #6 on the Independent Albums and #5 on the Rock and Metal charts, respectively." The word adds nothing. "Respectively" quite often seems to be used to stretch word counts or to sound grown-up, the way college students add the utterly meaningless "on some level."
What set off this blog entry was an attempt —unsuccessful, in the event— by a fellow editor to redact a press release that referred to Robert Burns as an "influential Scottish cultural icon." An human icon? Then there was a line I found, while doing my pre-Super Bowl reading in that arena of linguistic nihilists, sports reportage: "The fine is not related to Sherman's now iconic postgame interview..." An iconic interview?
I do very much respect the work described as "artisanal", but the misuse of such and many other words creates communication that, as Sam Clemens puts it, "accomplishes nothing and arrives in air." He admonishes, "Use the right word, not its second cousin."

---