---
---

'58 Caddy - A Boyhood Dream
March 6, 2014
In the 1990's when two or three of my nephews separately told me that they had no interest in cars or drivers' licenses, I was dumbfounded. I thought that there was something awful wrong with them or their whole generation. When and where I was a boy, the priority of all boys was to be old enough to get a license to drive. Maybe the boys Out West wanted guns or horses more —it seemed that way on TV— but we lads Back East in Fall River, Massachusetts wanted cars, years before we even understood what back seats were for. We liked our bicycles, but we knew they were steppingstones.
So it was that we male Baby Boomers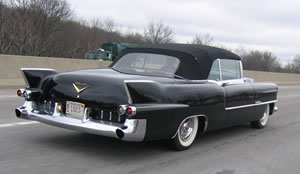 spent time studying the relative appeal of the various models of desirable cars, i.e., Ford or General Motors products. Chrysler and American never made the cut.
In the second half of the '50's, all cars had fins of some sort. An extended poll lasting many hours of reverie was undertaken to determine the best fins of all. There were some strong second-place contenders, such as the '57 Chevy, still today a top choice of hotrodders, and there were many poor competitors, such as the too-much-too-late '60 Chrysler Imperial in which Jackie rode to JFK's burial. In the end, 100% of me unanimously chose the fins of a 1958 Cadillac as the best of all time, making it my dream car, at least until the arrival of the radically new '61 Chevy.
Yesterday I spotted one —a convertible no less! perfect!—on Route 3 in the area of Marshfield, in showroom condition. It was easy to get off a few shots with a little point-and-shoot camera, but only the first, of the rear quarter, was any good, because I was driving and there was traffic. The driver enjoyed my appreciation of his ride. It was doing a steady 60 MPH, so it was no trouble to speed ahead to a rest stop to get a shot of the front, but my timing was off.
I did however succeed in revisiting a boyhood daydream; it is left to the reader to decide whether my affinity is more telling of me or the times. There were for me moments when this car was just about the prettiest sight the world had to offer.


---